Case Study: 
Ironbridge Gorge Museum Trust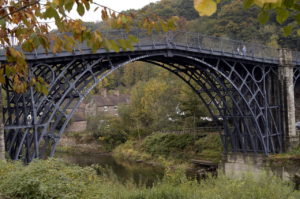 The Ironbridge Gorge Museum Trust is one of our Volunteer Makers pilot partners. We have been working with the Trust ahead of our national programme and talked to Richard Gough, Volunteer Co-ordinator for the 10 museum sites, about how the Trust was already using elements of our blended volunteering approach and how they could develop the approach further
How many volunteers do you have?
We have approximately 450 volunteers at 8 out of the 10 sites, giving 35,000 hours a year. They tend to be in two to three main roles, including guides and costumed volunteers.
What are the typical demographics of your volunteers?
Mainly mid-to-late 50s+ as well as a number of family volunteers (the youngest is 14 months old!)
The real missing demographic is the 30-45 year olds. We have been looking for ways to connect with this audience as it is our biggest gap.
We've tried various strategies but Volunteer Makers has helped us join the dots, helping us engage with this generation as a distinct group and recognising the values and ethics of this group and what they want from volunteering.
We've found that there is a real difference between those people born just before the millennium – who tend to be not that bothered – and those born just after who want to change the world. There's just a few years between them but the difference is huge and you need to engage with them in different ways.
We want to attract people with a range of ages and backgrounds, especially as the local population tends to not reflect the traditional socio-economic profile you associate with museum volunteers – there are lot of broken homes, kids on the edge of care etc.
Their idea of what being a museum volunteer entails is probably sitting in a dusty office, going through old documents. We want to present a different idea of volunteering.
What kind of activities are you undertaking to attract this demographic?
We've been looking at social activities that bring people into the museum and where we can show them that the museum is about a lot more than they may think.
We've started a community choir and a craft club where people who were going through rehab do craft in the museum as part of their occupational therapy.
The craft club supports what they have been doing in college but in a more informal, light touch way.
With these sorts of activities you have a captive audience – when people are aready doing nice things in the museum it's a much smaller step to them then becoming volunteers.
How successful has this been in attracting hard-to-reach groups?
We have a target of 8% of our volunteers who have support needs, but we've actually got 15%.
We find that people tend to start in the craft club, or gardening club, and this then helps them grow their group confidence and from that we get a good number going on to be guides or costumed volunteers.
How do you measure the impact of your volunteer engagement?
We have a number of KPIs for volunteering but we are working on ways to make how we measure it much more qualitative and to measure it in different ways.
Rather than saying "we want to recruit another 100 volunteers" I prefer to look at the difference being made.
For example, one summer we had 5 volunteers who helped run 12 projects for kids – its not necessarily about the numbers.
What about micro-volunteering?
Episodic volunteering is just as valuable to us as regular volunteering. We have a volunteer retention target of 75% but if we don't reach that we still know that the volunteers have still contributed something and often they will return again when they can fit it in.
We plan to do more micro-volunteering – for instance we have plans to make artefacts available in the museum for visitors to examine and clean – which will help us and also be an appealing "visiteering" experience.
If you can break down the idea of having to go through a huge process of application to become a volunteer, or having to have a lot of time or expertise, you allow people to contribute to the museum.
Do you do any skills matching?
As a volunteer co-ordinator I can assess how best to use volunteers when they join us, but I don't have a great deal of time to go through this and I have to know in a few words what skills they have and how to match those with our needs.
We need to be more pioneering in the way we recruit and assess volunteers – if you need to write a 15 page essay to become a volunteer then no-one will want to do it.
For volunteers who are going to be in 2-3 days a week and working without supervision then we need to be able to check they are on the level.
But for those doing 20 minutes here and there, or working under close supervision, we could be a lot more informal
How the Museum could work with Volunteer Makers
Support their wider engagement with volunteers outside of their traditional geographic areas by enabling remote volunteering and bringing people together online
Unpick the value exchange by giving volunteers a platform to manage and shape their own needs as an individual while contributing directly to the goals of the museum.
Putting digital at the heart of their volunteering activity to streamline engagement, communication and valuation of volunteering throughout the whole museum.
Building an always-there connection with volunteers so that relationships can be maintained even when other choices take volunteers away from their role for time.
Creating a sense of community among volunteers through social and gamification elements – particularly useful where diverse communities and geography can cause a sense of disconnect.
Providing tools for wider ideas sharing and discussion around projects such as the New Museum Network.
Drilling down data to support an understanding of Blended Volunteering value, diversity and impact.