Oxford and Cambridge have long been associated with students – but it was Volunteer Makers' message that was being studied there in a busy month for Volunteer Makers and the Tickbox team.
May began with a training day for staff at University of Cambridge Museums. The organisation runs eight separate highly regarded museums as well as a world-famous botanical garden.
The collections receive many millions of visitors, but the forward-thinking organisation has recently begun planning how Volunteer Makers can help them strategically engage their volunteers and supporters, creating a tangible value exchange and impact.
This aims to increase the reach of the museums; diversify the community visiting and working with them; support volunteer recruitment; and cut unnecessary paperwork, whilst beginning to collect anonymised data in a sensitive manner. This data includes analysis of volunteers' skill sets.
Volunteer Makers' Claire Sully headed to Cambridge's twin university town Oxford for her next assignment.
Innovative gallery Modern Art Oxford tried Volunteer Makers and liked what it could do to help them manage and grow their community of supporters and helpers.
Claire guided staff through the next phase, training them to use the app and make best use of it. The gallery will enjoy 6 months of free usage and is looking forward to an ongoing relationship with Volunteer Makers.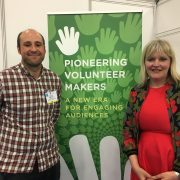 David Juler, of the Museum of Oxford, explained how his organisation had been working with Volunteer Makers, and as a Volunteer Makers pioneer, they help shape the platform's development. It's a collaborative effort, with Tickbox actively seeking users' feedback.
Some very positive feedback came from one Volunteer Maker user this month.
Snapping the Stiletto – a collaborative project run by multiple museums in Essex have recruited more than 100 volunteers since launch in March.
The project, which aims to smash the cliched "Essex Girl" view of women in the county, has been active users of Volunteer Makers. Manager Pippa Smith has been delighted with how the micro-volunteering it has encouraged, adds up to give real momentum to the project.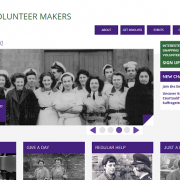 "It's really interesting to see how the minutes add up. Our Just a Minute challenges have been popular and people who have signed up to share information on social media have spent around 16 hours on this- it may not feel like you are doing much at the time but every tweet or Facebook share really adds up!" she said.
Another breakthrough was achieved by the Volunteer Makers team with the production of a case studies booklet, which was launched at the Museums & Heritage Show.
Find out how others have used Volunteers Makers to aid and target volunteer recruitment and make that precious budget go further. Get in touch if you want a copy, or want to discuss training options.
Here are some more photos from this month's activities:
https://volunteermakers.org/wp-content/uploads/2020/05/VM_logo-300x138.png
0
0
Claire Sully
https://volunteermakers.org/wp-content/uploads/2020/05/VM_logo-300x138.png
Claire Sully
2018-05-29 09:38:41
2019-03-21 13:25:06
Volunteer Makers rises to university's challenge