At Volunteer Makers we're always looking for ways to improve the success of our user community in engaging with volunteers and supporters, and to share success too.
Spoiler alert! Volunteer Makers requires the same sustained approach to supporter development as any other system. The difference Volunteer Makers can make is the potential of social digital and flexible opportunities to reach out and appeal to a wider and more diverse supporter base.
Here are our top tips, collated from our successful user community:
Tip 1
In at #1, social media – particularly effective for reaching new volunteers. Although it's not rocket science, it's surprising how easy it is to miss the opportunity of this tool to share Challenges, engage with supporters and share your supporter stories. Successful users are putting most, if not all, of their Challenges on social media and making the most of their reach. Remember, Volunteer Makers has social media sharing tools embedded in the site to make it even easier!
"Every new challenge that goes on is mentioned on all our social media feeds for us and the town. I would say that digital media has been the most successful marketing tool, particularly as we have quite a good reach already" (Tamsin Bough, Falmouth Art Gallery).
"I post at least one original tweet or post each day and then obviously we re-post relevant content. Primarily I use it in a "Have you seen this volunteering opportunity with X" type vein, but I also share events that are happening at the organisations that use Engage in Gloucester and celebrate local volunteers or volunteering in general" (Sarah Orton, Gloucester Culture Trust)
Tip 2
Your website – again, not rocket science, but do make sure your Volunteer Makers' site is on there, is easy to find, and cross references support and volunteering. As your Volunteer Makers' site is branded to look like your core website, this should be seamless.
"Our website has directed many people to sign up, having a section explaining about Volunteer Makers" (Jessica Hartshorn, Rugby Art Gallery and Museum)
Tip 3
To reach existing supporters and volunteers, and to convert them to being a Volunteer Maker,

make the most of your mailing assets – to existing volunteers and supporters (all GDPR compliant of course!), direct emails (add a clickable banner to the footer of all staff emails) or newsletter articles.
Tip 4
There's nothing wrong with analogue! Engage new supporters offline too. Posters, flyers, postcards and bookmarks have all been tried and tested, directing people to Volunteer Makers' sites.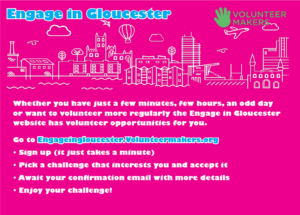 "I've got three pull up banners, logoed stickers and postcards to advertise the site. I go out to events such as the History Festival, residents' weekend, local community shows and have a stall, chat to people about the site and hand out the postcards and stickers. I also made sure that the postcards are a bit thicker and substantial so they don't just get immediately discarded and they also work as bookmarks" (Sarah Orton, Gloucester Culture Trust)

Tip 5
More offline activity – you can still showcase Volunteer Makers and drive people to your site via traditional methods such as volunteer fairs and events (on or offsite). It might help to have a laptop/tablet to showcase what you offer, how it works and encourage sign ups on the spot.
"I recommend face-to-face contact at open days – ensuring they sign up on the spot!" (Katy Hammond, Museum of Oxford)
"The most labour intensive, but I think the best conversion rate has to be face to face contact with people" (Sarah Orton, Gloucester Culture Trust)
Summary
We ask our users to put together a plan before they launch for delivering Volunteer Makers – but a plan isn't just for launch! You will need to sustain your supporter development all year round, and be prepared to experiment with new approaches and maximise your existing assets. As you would for any audience engagement in your organisation.
Case Study
Sofia Carosi, Corporate, Community and Events Fundraiser at HorseWorld tells us how she's put this into practice since launching in January this year:
I've found that social media, particularly Facebook, has been the best way to gain new members on HorseWorld Heroes (HH), as it reaches many more people and is an easy platform to get info in front of them more than once, as opposed to sending a letter where they read it then throw it away. I post regularly on social media about the new site and that we're looking for specific challenges to be met etc. I've set the cover photos on all our social media accounts to show HH and pinned posts to the top of all news feeds. I also ran a sponsored Facebook Advert for 7 days (spent £50, 315 link clicks).
I've made staff add clickable banners to their emails so it reaches new audiences outside of my control (without breaching GDPR). I sent direct emails to all current staff and active volunteers and arranged reminders to be sent to those who have not opened the first mailing. I sent emails via MailChimp to active supporters with email consent.
I posted within a campaign mail out to supporters a printed bookmark (that I made myself and printed here to keep costs down) with details of the website on. HorseWorld Heroes will also have a page in the next HorseWorld newsletter and will be pushed out further at events with flyers and bookmarks in goody bags.
Popular challenges are mainly within the Just A Minute category, with Follow On Social Media topping this. An Hour or Two category challenges are also popular, with Knit/Crochet Horses or Donkeys being most clicked on and accepted. Because of this, we will have a lot more handmade horses/donkeys to sell at the open days (which from experience we know are very popular) so will increase our income as a result of the new Volunteer Makers system.
We have gained a new potential regular Research Volunteer to help with #BreakTheChain, and a new and regular Discovery Volunteer. Furthermore, we have acquired two offers of raffle prizes for the Open Days and one offer of clothing for Discovery students because of HorseWorld Heroes.
You can find their site here
Anna Bryant, MA, AMA, Marketing and Engagement Manager, Volunteer Makers
Anna has worked in and for museums of all shapes and sizes across curatorial, interpretation, audience development and marketing roles during the last 19 years.
https://volunteermakers.org/wp-content/uploads/2020/05/VM_logo-300x138.png
0
0
Claire Sully
https://volunteermakers.org/wp-content/uploads/2020/05/VM_logo-300x138.png
Claire Sully
2019-03-14 17:27:16
2019-03-21 13:18:54
Engaging and Developing Supporters – 5 User Tips