The approach to the Festive Season hasn't slowed the pace of the Volunteer Makers' team and our partner organisations. We now have thousands of people signed up to Volunteer Makers' platforms across England and have engaged with organisations operating over 200 sites!
As we prepare to leave a busy and successful 2018 for Volunteer Makers, now's the time to look at some of our "Christmas stars" who've upped their digital game via Volunteer Makers.
The Museum of Oxford is a pioneer organisation within Volunteer Makers, and despite being closed for redevelopment until 2020, has signed up more than 100 volunteers since the launch of their site in February.
That success was matched by Engage in Gloucester, a consortium of arts, heritage, cultural and community projects in the West Country city, who also added 100 new names to their volunteer platform. They launched their site in September, and have really engaged with Volunteer Makers' ethos of using social media to build engagement and embed the organisation in their community.
Christmas hats off as well to trailblazing Tyne and Wear Museums – one of Volunteer Makers' original pioneer partners – who have over 1,500 volunteers signed up at nine sites across the region via their site.
Finally, we must mention Essex-based community project Snapping the Stiletto, which in addition to garnering media interest, has also engaged 150 new volunteers since March. The project celebrates the lives and achievements of the women of Essex, and its success forms the launchpad for the Essex Women's History Festival, in March 2019.
Although Volunteer Makers has proved a popular way to improve engagement with arts and heritage organisations, this is far from being the only sector the digital platform works with.
Carymoor Environmental Trust is a nature reserve and education centre developed on a landfill site in the heart of Somerset. The charity has just launched its Volunteer Makers' site, looking to build its volunteering base and make supporting their mission fun via a series of challenges.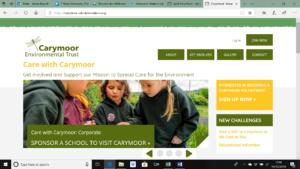 This month we also delivered a Volunteer Makers' strategic training workshop to Horse World, a charity that supports rescue horses working with young people based in Bristol.
Further north, last month saw another new Volunteer Makers' site launch. University of Liverpool Museums runs two sites – the Victoria Gallery and Museum and the Garstang Museum of Archaeology – both recognised as national centres of excellence. Volunteers speak of the sites as jewels of the city of Liverpool, and the Volunteer Makers' platform will help the parent organisation garner new faces – and make the most of those already there!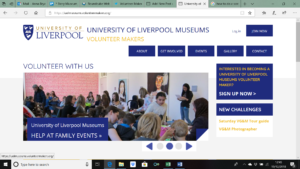 As well as site launches, Volunteer Makers just ran a workshop in a city we are already familiar with via pioneers Heritage MK. This time it was with MK Gallery, who are looking to engage more supporters when their expanded site opens next year.
Anyone interested in finding out what a training workshop next year can do for your organisations' engagement, please click here. We'd love to hear from you.
In 2019 Volunteer Makers will be further developing and rolling out its Sustainable Libraries programme – bringing the micro-volunteering and digital engagement message to this much cherished, but economically threatened, sector.
We are also in advanced talks with a region over a new strategic programme called Connecting Communities, Transforming Lives. Watch this space for news!
We wish all our partners, stakeholders, volunteers and staff a very happy Christmas holiday and look forward to working with you in 2019.
https://volunteermakers.org/wp-content/uploads/2020/05/VM_logo-300x138.png
0
0
Claire Sully
https://volunteermakers.org/wp-content/uploads/2020/05/VM_logo-300x138.png
Claire Sully
2018-12-19 12:51:46
2019-03-21 13:20:17
Volunteer Makers ends the year with a bang – 1000s of people now signed up doing 10,000s of challenges, here are some shining examples