Before You Launch – Consider These 5 Tips
Here at Volunteer Makers we are always looking for ways to improve the success of our pioneers in engaging with volunteers and supporters in flexible and inspiring ways. Here are our top tips to consider before launch.
Tip 1
Think strategically about why you want to use Volunteer Makers to engage with your supporters. Is it a way of opening up new opportunities to regular volunteers? Do you want to encourage new and different types of supporters to join you? Do you want to offer flexible opportunities? Do you want supporters to help deliver a business objective (e.g. a redevelopment)?
"Thinking about challenges including micro ones has completely made us rethink how we use volunteers. Before we were in a situation where we would recruit volunteers and think how we would use them. Now we look at the programme coming up and think about how to use volunteers on and off site. Fundamental shift for us" (Amanda, Corinium Museum)
The answers to this question will help shape your plan…
Tip 2
Devise and work to an action plan, including how to roll out Volunteer Makers and how to work together. Name people in the plan! Make it SMART.
"Claire helped us to set an action plan during the workshop with a vision and aims. This, so far, has enabled the project to move forward. [We have] regular group meetings looking at our progress and working with the team and our current volunteers to overcome any challenges. Our officers are setting challenges, front of house staff are selling Volunteer Makers, volunteers are currently testing it. Everyone plays a part" (Jess, Rugby Art Gallery and Museum)
This plan must embed working organisation-wide…
Tip 3
Engage leadership in championing Volunteer Makers as part of your strategic engagement objectives. Get buy in across the whole organisation. An organisation-wide engagement culture helps to mitigate changes in staff that can impact roll out. Work across the whole organisation (including volunteers) to provide inspiring, flexible challenges that help deliver the organisation's business need, understanding that almost anything can be framed as volunteering, engagement or support of your organisation.
"Getting the whole organisation involved at all levels has been really important. Planning multiple opportunities for people to get involved and think about what aspects of Volunteer Makers might appeal to the motivations of different teams" (Fran, Geffrye Museum of the Home)
And for this to happen you need to set aside time…
Tip 4
Make sure you commit the time, and are supported to do that, to make rolling out and developing Volunteer Makers a success. Although Volunteer Makers doesn't replace your approach or existing volunteer programmes, you do need time to make it as effective as possible in engaging your audience.
"We have tried to work collaboratively across the organisation; in practical terms this has meant having a clear idea of time scale and key outcomes at different stages [which] has been really vital. This has helped to make sure that people have the information they need to contribute to decisions, reflect and feedback at each stage, whilst planning time to act on feedback where possible. We used a simple table to help keep track of this which allowed us to adjust the plan as needed" (Fran, Geffrye Museum of the Home)
And effective engagement means engaging digitally too…
Tip 5
How you are going to communicate your challenges is as important as coming up with them in the first place. Ensuring those responsible for marketing/social media are part of your organisation-wide buy in is essential. Engaging digitally is key, and you need to be social (e.g. a blog, social media) if you are going to diversify your volunteers and reach a broader range of people.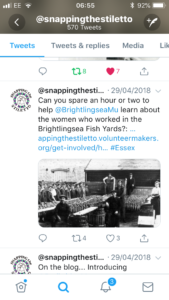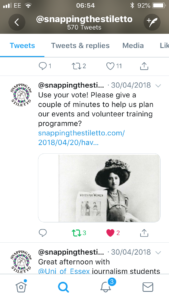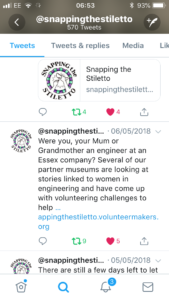 Anna Bryant, MA, AMA, Marketing and Engagement Manager, Volunteer Makers
Anna has worked in and for museums of all shapes and sizes across curatorial, interpretation, audience development and marketing roles during the last 18 years.
https://volunteermakers.org/wp-content/uploads/2020/05/VM_logo-300x138.png
0
0
Claire Sully
https://volunteermakers.org/wp-content/uploads/2020/05/VM_logo-300x138.png
Claire Sully
2018-08-13 12:50:19
2019-03-21 13:21:46
Before You Launch – Consider These 5 Tips