Although many of Volunteer Makers' users are traditional city museums, some are not – the apps blending of micro-volunteering with social benefits for supporters has applications in a variety of organisations.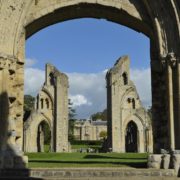 A busy early June for the VM team was capped by the launch of a Volunteer Makers portal by a spectacular heritage destination, Glastonbury Abbey.
Launching, appropriately, in national Volunteers' Week, the new portal aims to grow, diversify and engage volunteers with work at the 1,300-year-old Abbey – a site linked with Arthurian legend as well as Medieval monasticism and Henry VIII's brutal Dissolution of The Monasteries.
Across the country from Somerset, another portal launched for a heritage group in Milton Keynes.
The VM model has proved to be very successful for heritage and arts organisations working as a consortia, and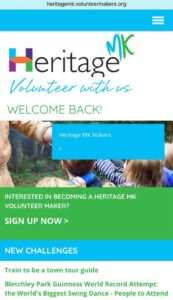 early indications are that the pattern could be repeated for HeritageMK.
HeritageMK includes sites showcasing the Roman and Saxon history of the area, as well as the home of Georgian poet William Cowper. It was there that Cowper's friend John Newton wrote Amazing Grace.
The consortium also features the world-famous Bletchley Park, the stately home that became the centre for crucial Allied codebreaking in WWII.
Earlier in June, VM launched further South, with a portal at Southampton Heritage and Arts.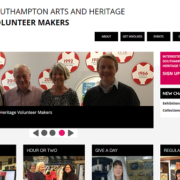 This group includes not only one of the port's oldest surviving structures, the Tudor House, but SeasCity Museum where Southampton's maritime history is explored, including a fascinating Titanic exhibition.
The city's highly regarded Art Gallery is another organisation that will benefit from VM's two-way model of volunteer engagement.
Volunteer Makers has proved a hit with organisations in Essex, and Chelmsford Museum became the latest to launch a VM portal.
The museum operates on three sites in the bustling county town, telling the archaeological, military and industrial history of the region and much more.
Elsewhere, one of VM's smallest pioneering operations, the Holst Birthplace Museum in Cheltenham, has been recognised for its forward-thinking approach to volunteering.
The museum houses a fascinating archive on the composer Gustav Holst, who despite his Germanic name was a Gloucestershire lad.
Its active and innovative approach to supporters, now supported by its established Volunteer Makers portal, won it the Queen's Award for Voluntary Service.
As the Summer presses on, more and more organisations are finding through Volunteer Makers added value from engaging Volunteers in a 21st century way!
https://volunteermakers.org/wp-content/uploads/2020/05/VM_logo-300x138.png
0
0
Claire Sully
https://volunteermakers.org/wp-content/uploads/2020/05/VM_logo-300x138.png
Claire Sully
2018-06-13 13:45:14
2019-03-21 13:24:23
Volunteer Makers Gets the Abbey Habit!