Museum trends show need for blended, digital volunteer approach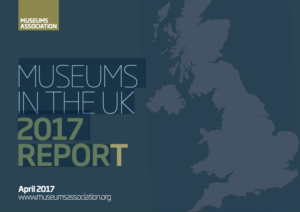 A major report into the state of the museum sector shows mixed picture of rising visitor numbers but falling funding – with a shifting relationship between museums and their audiences, the digital revolution and a move towards socially-engaged practice shaping the sector's future.
The Museum Association's Museums in the UK Report 2017 shows that trends that led to the development of the Volunteer Makers approach are continuing to impact museums.
While almost half of museums saw a rise in visitor numbers, nearly a quarter saw public income fall.
At the same time the report says museums are relying on volunteers more than ever, but struggling to find volunteers with the skills and knowledge for some areas of activity.
The Volunteer Makers approach – developed with museums who have experienced the same challenges – directly addresses these challenges by re-aligning the relationship between museums, their volunteers and the wider community.
Volunteer Makers shifts thinking on volunteering from being just a defined "job" role to being any and all acts of supportive engagement from anyone connected to your museum – whether that's visitors, local businesses, people sharing interests or regular volunteers.
Digital engagement and micro-volunteering allows skills matching and flexibility that makes museums less reliant on finding just one or two people to commit substantial time and skills to a dedicated role, and is more about a value exchange with a wider community of volunteers.
We currently running a series of free Volunteer Maker workshops – funded by Arts Council England – for accredited museums in England who want to learn more about this engagement model.
Volunteer Makers Programme Director Claire Sully said: "The Volunteer Makers model was developed with our museum partners specifically to tackle the sort of challenges highlighted in this report.
"It has been a successful approach with our pioneer partners and we are keen to see more museums taking part in the programme as we believe that it can make a big difference to the sustainability of many museums in a difficult, but also potentially exciting, time of change in the sector."
To learn more about our free Volunteer Makers workshops, and to apply, click here.
https://volunteermakers.org/wp-content/uploads/2020/05/VM_logo-300x138.png
0
0
Claire Sully
https://volunteermakers.org/wp-content/uploads/2020/05/VM_logo-300x138.png
Claire Sully
2017-04-06 14:49:53
2017-04-11 10:53:47
Museum trends show need for blended, digital volunteer approach